If you're working in a network environment you may have noticed that you can print to any one of a number of printers in your building. You may have also noticed that your default printer isn't always the one you'd like. Here's how to set your default printer to the one you want. (Please note that this might not be possible in all network environments. In some cases you might have to contact your network administrator to access these windows and settings.) Here are the directions for changing your printer in Windows XP:
Go to the START menu and select SETTINGS and then select PRINTERS AND FAXES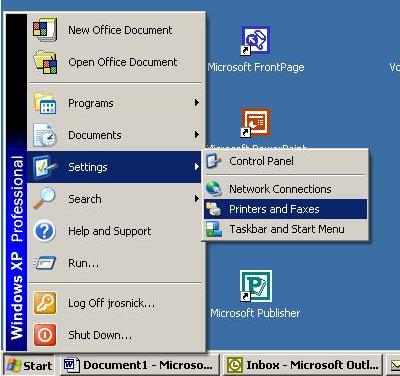 A list of all the printers you could possibly use is then displayed. The one with the black and white check mark next to it is your current "Default Printer."
If you'd like to change it RIGHT CLICK on the printer you would like to set as your new default printer and select "SET AS DEFAULT PRINTER" from the list.
If you have Windows 7 on your computer youc an try this tutorial:
Featured YouTube Video
How to Set Default Printer in Wondows 7

PRACTICE ACTIVITY: Try checking your default printer sometime today. If you're feeling daring you could by changing it.
TO KEEP ON LEARNING: Find out more about setting your default printer try searching online for:
Default printer
Network Printers
Setting Printers in XP