Somewhere in your inbox you probably have several emails that had the nicest looking signatures at the bottom of them. Today's technology tip will tell you how you can have a signature line automatically added to every email you send. This tip is for Microsoft Outlook but there are similar features available in most other email systems.

1) Go to "Tool" on the menu bar and select "Options" from the bottom of the list.

2) Select the tab for "Mail Format" and then select "Signatures" from the bottom of that window: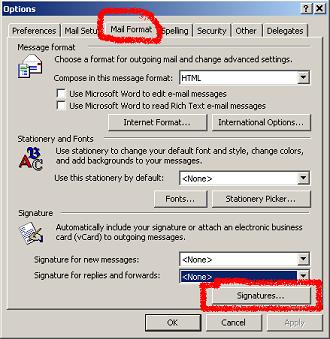 3) Click "New" and then type in the name for your new signature, then click "Next"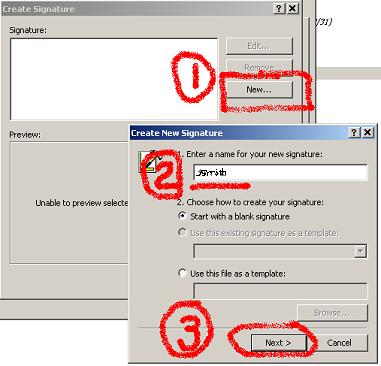 4) Type in the signature you'd like to have appear at the bottom of every email you send. Then make changes to the font, size and color using the buttons at the bottom of the box (see below). In this example I changed George Washington to a font called "Script " and made it 24 pts. Click "Finish" when you are done.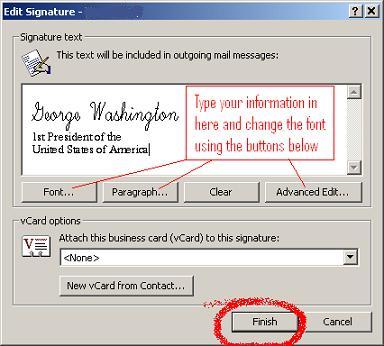 5) Check and make sure your new signature appears next to "Signature for new messages"

You might also set it for "Signature for replies and forwards."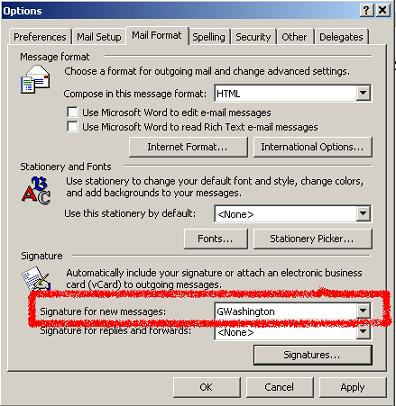 PRACTICE ACTIVITY: Try changing your email signature sometime today.
TO KEEP ON LEARNING: To find more about email signatures try searching the internet for:
Email signatures
Signatures in Outlook
Changing Your Email Signature